Welcome to the
The resource dedicated to Witch Hunter Manhwa (위치헌터) by Jung-man Cho
We currently have 178 Articles and 869 Images on this Wiki. Remember to visit the Characters and Timeline page for details on the series!
"
In a world where witches have declared war against humanity, two-thirds of the world falls under their control. The surviving human population gathered specialists with the power to track and destroy witches and called them Witch Hunters.

Tasha Godspell, also known as the "Magic Marksman," is one of the best hunters there is. Along with his sword-wielding Jack-o'-Lantern partner known as Halloween, Tasha puts his magical training and weaponry to good use, in his constant battles against witches. And yet, he cannot bring himself to fully hate the very witches he is tasked to destroy.

"
Featured article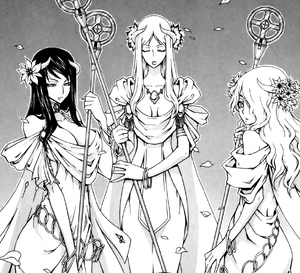 Moirai
Moirai (모이라이 Moilai) also known as Fates (운명 Unmyeong) are three goddesses who are key to Tasha's technique, Moirai's Confinement. Originally belonging to Edea, they are passed down to Tasha. By singing the Song of Moirai, they allow Tasha to meet Edea from beyond the grave and access her mana at the expense of being unprotected from Aria's curse. The Fates names are Atropos, Lachesis and Clotho.
Resources
Official Sites
General Sites
-
Read Witch Hunter Manhwa
Latest Blog Post
Can all contributors please stop deleting empty/defective parameters in infoboxes. I recently changed the parameter names which can be seen on the Character Infobox template so if you're not going to…
See more >
Latest news
Witch Hunter Volume 23 is out in Korea!
Latest Chapter: Magazine Chapter 231

Did you know...
Mordred/Halloween originally had three seals!
Edea is identical in appearance to West except for two moles under her left eye!
There are weaker witches who have the appearance of 40 year olds!